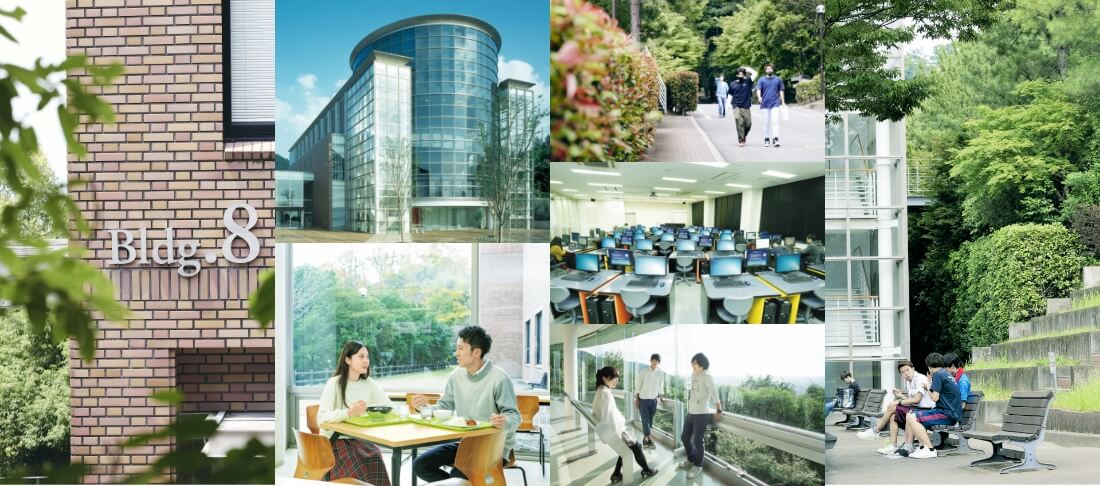 A campus surrounded by the beauty of nature. Located on a hill with a panoramic view of the Osaka Plain, it is an ideal environment to bring out creative ideas and become absorbed in practical work and research.
Campus map
1
Building 1
Shijonawate Student Academic Affairs Section / Shijonawate Career Placement Section / Library
3
Building 3
Co-op Dining Hall
The first floor contains a dining hall, where you can select your own meal by choosing items to go on your tray. Many menus are limited to certain periods, such as the Italian Fair, allowing you to enjoy a variety of different dishes. The second floor has shops that sell bread, onigiri (rice balls), and snacks. There is also a dining hall with selections such as noodles (including udon and ramen), rice dishes such as katsudon (pork cutlet on rice), and more.
4
Building 4
Memorial Gymnasium
This facility is used for a wide variety of purposes, from sports practice to club activities. The gymnasium also includes training rooms.
6
Building 6
Media Communication Center
The Media Communication Center provides a complete PC environment in terms of both hardware and software. Microsoft® products can be used within the campus as well as on individual PCs. The PCs in the lab can also be used with no need for reservations when not being used for classes.
7
Building 7
Konami Hall
This large hall, with a capacity of 950 people and a barrier free stage, can be used for ceremonies, lectures, musical performances, plays, and many other events.
Joint Institute for Advanced Multimedia Studies (JIAMS)
JIAMS was established in 2001 as a research and development facility for industry-academia collaboration, with the goal of contributing to local communities. It is equipped with professional-level devices and equipment of the largest scale in Kansai, including a motion capture studio, CG studio, and video and sound studios.
Cafeteria
This multi-use facility is used by students as a dining hall at lunch, and as a place of relaxation at other times. It can also be used for events such as parties and get-togethers.
8
Building 8
Clinical Engineering Exercise Room
This building contains facilities that are reproductions of those actually used in medical care, such as operating rooms, intensive care units (ICU), and dialysis facilities. Students can learn practical skills including the operation of technology such as heart-lung machines. They can also study safety management technology for medical equipment such as electrical scalpels and ultrasound equipment.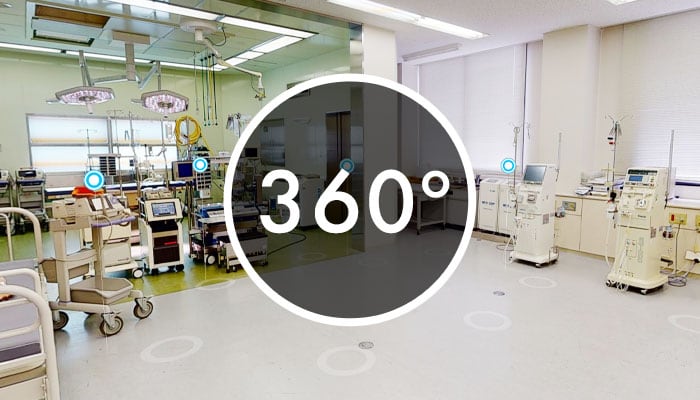 View it in VR!
*Google Chrome, Microsoft Edge, Safari recommended
Motion Analysis Laboratory
The Motion Analysis Laboratory contains equipment such as motion analysis equipment, muscle function measurement equipment, and electromyographs. There, practical training and research are carried out regarding kinematics. Students can actually experience the physical and psychological effects of exercise through three dimensional analysis of the limbs, trunk, muscle strength, and actions.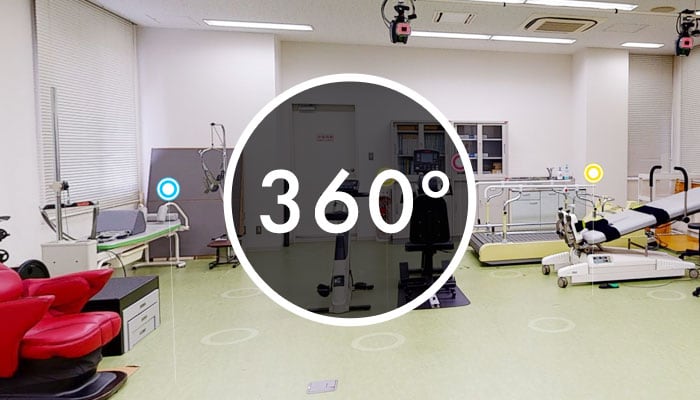 View it in VR!
*Google Chrome, Microsoft Edge, Safari recommended
Welfare Environment Laboratory
This building contains the Welfare Environment Laboratory, which is a reproduction of an apartment that allows students to experience the living environment of people who require nursing care. It is equipped with assistive products such as wheelchairs and hospital beds. By actually practicing nursing, students learn to consider living environments from the standpoint of the elderly and people who require nursing care.
Hydrotherapy Laboratory
Hydrotherapy uses warm water or air bubbles to promote improvements in blood flow and soften tissue. It includes a variety of treatment methods, from using cold or heat with water temperature, to using other properties such as buoyancy, resistance, or water pressure. In practical training, students learn about hydrotherapy based on actual cases, such as how to respond to damage that has occurred during sports competitions or training.
Physical Therapy Practice Room
This is a classroom where students mainly in the Department of Physical Therapy conduct various practical training exercises using treatment beds. Through learning centered on practical clinical training, students can develop advanced practical skills which will be required in the field, as well as communication skills to provide kind consideration to others. They can deepen their understanding of the human body by checking physical movement among themselves.
9
Building 9
Kozuki Hall
This hall is used by students as a place to relax, and also for holding events such as welcoming parties for new students. The building also features beautiful views of the surrounding scenery.
10
Building 10
International Exchange Center
The International Exchange Center accepts and supports international students from partner schools in other countries. It provides information and offers consultations and assistance with various procedures to students who wish to study abroad. It is also engaged in a variety of plans and proposals to further enhance education on internationalization.
12
Building 12
Aerobics Studio
Students can learn aerobics from various viewpoints such as physiology and sports medicine, and incorporate it into exercises.
Judo Facility
This is a full-scale, complete judo facility. Students can experience and learn the basics of judo, a traditional Japanese martial art which is also growing into an international sport.
A
The First Ground
A field used for classes or baseball and rubber baseball club activities. It uses black soil to create conditions close to those of official matches.
B
The Second Ground All-weather Track
This all-weather track was completed in March 2008, and contains four 100 meter straight urethane rubber chip paved tracks, a four lane 250 meter round track, and facilities for the long jump and triple jump. The field is a genuine clay paved track and field facility. The track is mainly used for education regarding athletics and practical skills by the Department of Health-Promotion and Sports Science.
C
Tennis Courts
These include four hard courts and one artificial grass court with sand, and are used for club activities and classes.
D
School/Commuter Bus Stop
Bus stop for fixed-route buses that connect to the Neyagawa Campus, as well as Shijonawate Station.