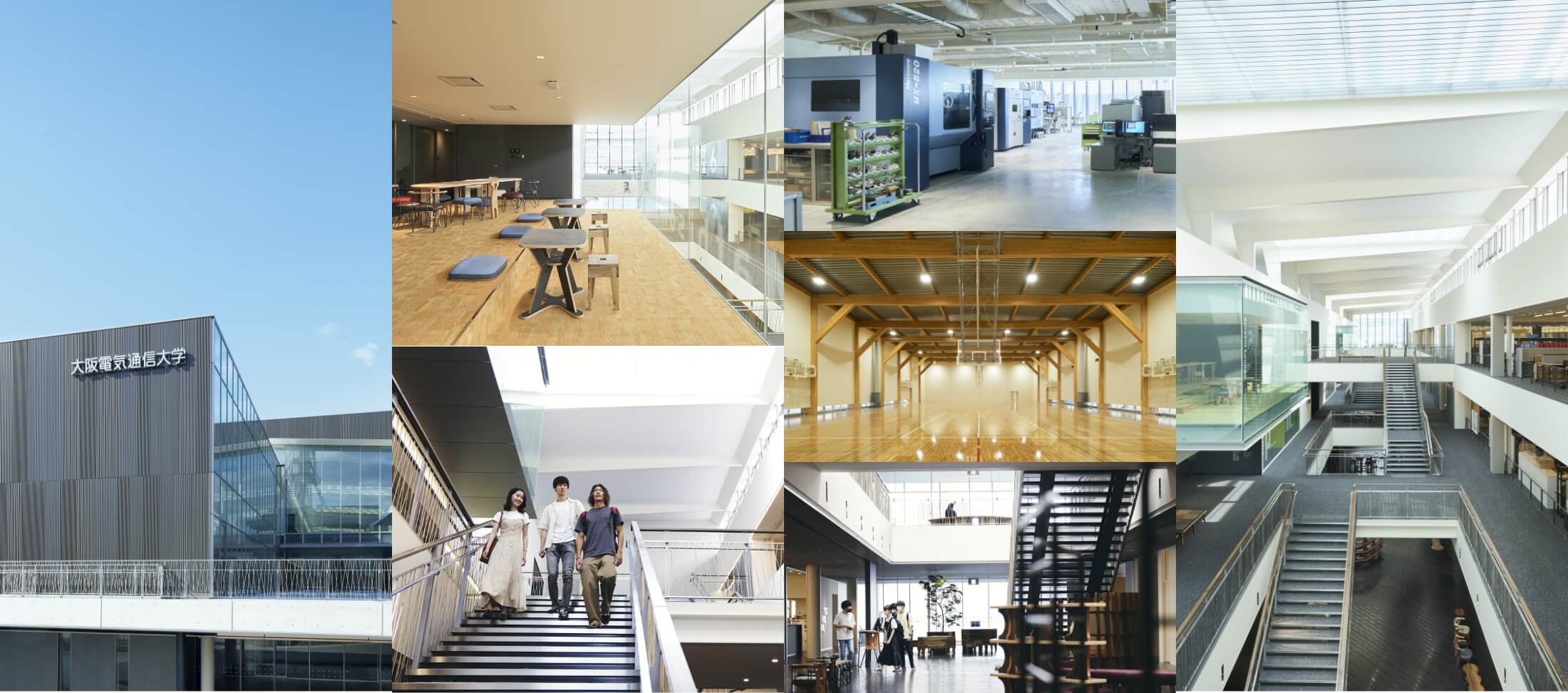 The Neyagawa Campus, where students from the Faculty of Engineering and the Faculty of Information and Communication Engineering gather, has a very convenient location at just a 7-minute walk from the Keihan Neyagawashi Station.
The first phase of its new building was completed in June 2020, and the second phase in March 2022.
Campus map
A
Building A (OECU Innovation Square)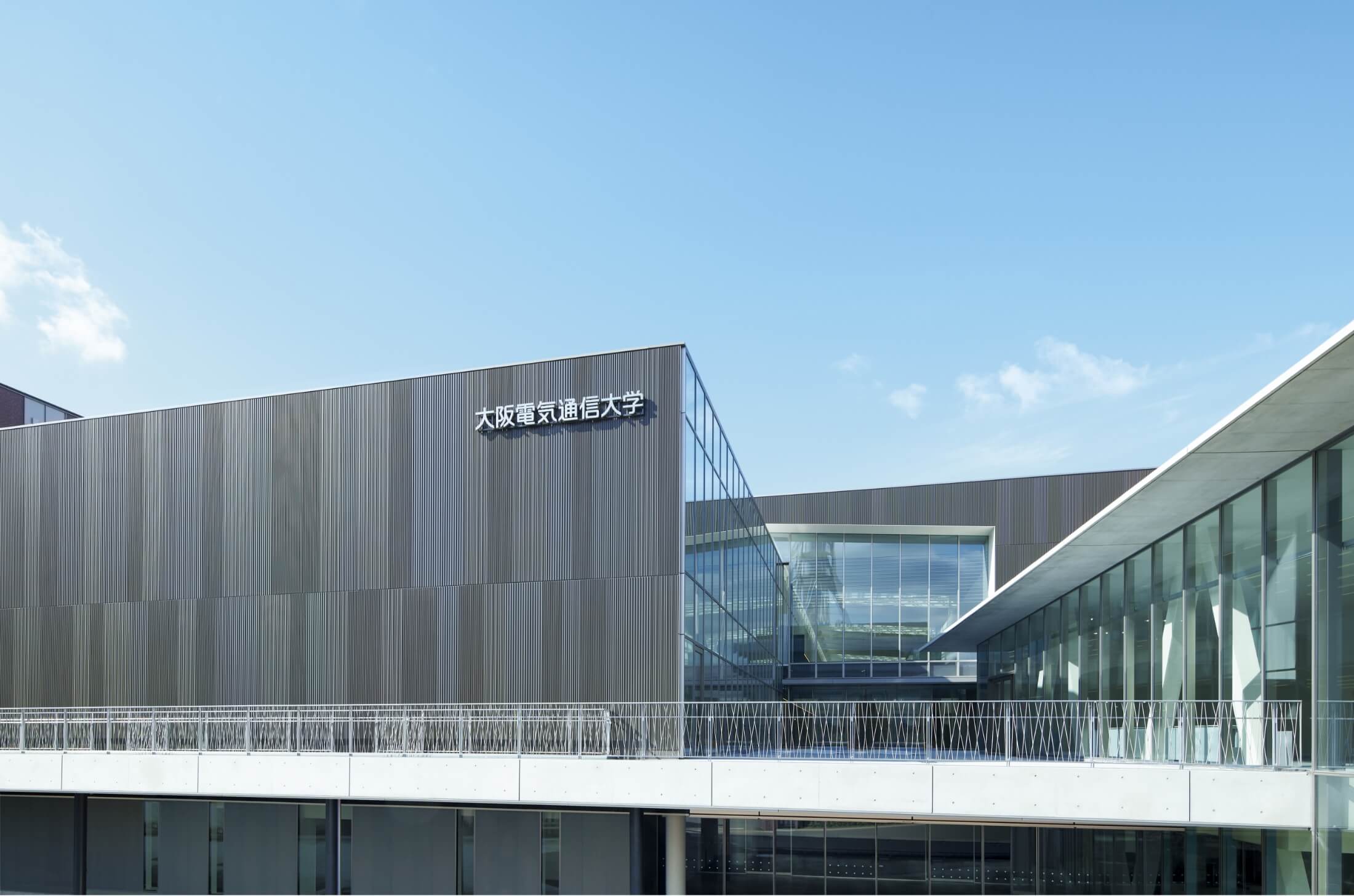 Spring 2022: Renovation of Neyagawa Campus!
The Neyagawa Campus will finally be completed as a place filled with free and unrestricted ideas.
Student Academic Affairs Department / Medical Office / Career Placement Department / Admissions Office / University Administrative Office / Academic Affairs Section / Accounting Section / Office of Research Administration / Regional Collaboration Office / International Exchange Center / Research laboratories / Student Labs / Lounge / Institute of Satellite Communication Research / Corporate Administration Office
3D Model Advanced Processing Center
At the 3D Model Advanced Processing Center, established in 2013, students can engage in advanced manufacturing with state-of-the-art machine tools.
D
Building D
Fundamental Electronics Research Institute
With the goal of developing valuation and other methods, this facility carries out research using ample equipment regarding the development of new materials and devices, as well as thin film control at the atomic and molecular level. The facility's development of a nanoscope able to clearly convey nanostructures that were difficult to view with traditional electron microscopes has received great praise across the world.
J
Building J (Education Center)
Library
Our libraries have an extensive range of new books and materials. They provide a wide selection of books related to electrical engineering, information technology, and architecture which are useful for educational and research activities.
Computer Lab
When not being used for classes, students are able to use the PCs in the Computer Lab with no need for reservations. It provides a comprehensive environment in terms of both hardware and software.
Lecture rooms / Dining hall / General Student Support Center / Media Communication Center
K
Building K
Electronic Machinery Experiment Laboratory / Shared Workshop / Drafting Studio
N
Building N
Institute of Informatics
This is a comprehensive research organization covering a wide range of fields, with a focus on information engineering, information science, and informatics. It is striving to create new collaborative research and develop research activities through international research exchange.
O
Building O
Clubhouse
This facility is the center of club activities at this university. It is used by a wide variety of clubs including athletic teams such as the soccer team and American football team, as well as cultural clubs such as the Light Music Club, the Cinema Club, and Vundovu (the "Pen Club").
V
Building V
Eco-Laboratory
This is a place where students can apply studies that consider the future global environment, such as the cultivation of microorganisms with expectations for use in food and pharmaceuticals, secondary batteries used in technology including eco-cars, and natural energy such as solar cells and wind power generation.
W
Building W
Fundamental Electronics Research Institute
Research is conducted here on topics including new nanostructure materials and devices, energy-efficient optical devices, lightweight and long-lasting fuel cells, and materials able to support energy conservation and new types of energy.
Y
Building Y (Experimental Center)
Electrical Experiment Laboratory
A laboratory with the theme of "in-depth learning in small groups." Students can use high-precision measuring equipment to thoroughly master the fundamentals of electricity and electronics, from basic electrical phenomena seen in AC circuits, to applied circuits. It is also equipped with an optical experiment darkroom where students can learn the basic principles of optics such as polarization, reflection, and refraction.
Free-use Workshop
The Free-use Workshop is an organization that supports students with a desire to try out manufacturing and further enrich their university lifestyles. Students are actively involved in its operation, with teams organized for individual projects. It also participates in various robot contests and other challenging activities. Its members include many students from general-course high schools, who learn about the basics of programming, drafting, and machining and then apply them.
Multipurpose Drafting Studio (Atelier)
This is used as a place for full-scale practical training using drawings and models created by students in the Department of Architecture, and for close communication between students and teachers. In addition, it is also a place to foster social development and independence by enriching deep, ongoing interactions between students regardless of academic year.
Physics Experiment Laboratory (Thermology Experiment Laboratory, Anechoic Chamber, Darkroom)
This is a laboratory specially designed for conducting various physics experiments involving light, sound, and waves, as well as thermology, mechanics, and other fields. It includes facilities such as a thermology experiment laboratory, a mechanics experiment laboratory, an anechoic chamber, and a darkroom, allowing students to perform high-precision experiments in independent environments to fit their objectives.
Fundamental Mechatronics Research Institute
This facility was established to provide comprehensive support for research related to mechatronics. The research system carries out measurement and experiments regarding a variety of branches, including mechanical engineering; energy and the environment; measurement, control, and robotics; and bioengineering.
Z
Building Z
Student Hall
A student hall opened in 2006, which provides students at the Neyagawa Campus with a place for relaxation. It is a complete facility with a convenience store on the first floor, cafeterias on the second and third floors, and a shop on the fourth floor.
esports Permanent Studio
The center of the "esports project." Our university is the only one in Japan to have a permanent studio for esports. We will use it as a base for collaboration not only with universities, but also with communities and corporations, contributing to the development of esports as a whole.
構
Structural Experiment Building
Structural Experiment Laboratory
This is a center for practical education in the Department of Architecture. It consists of a Structural Experiment Building and a Woodworking Room, provided with highly specialized machinery and equipment. Students can independently confirm what they have learned from textbooks to deepen their understanding.
Woodworking Room
The Woodworking Room can be used for various purposes such as classes, workshops, and projects, mainly by students in the Department of Architecture.
ア
Activity Hall
Activity Hall
This is a space featuring many types of trees that fill it with the warmth of nature, which can be used not only for physical education activity courses, but also many different events such as robot competitions.